ATHLETIC
PERFORMANCE
Princeton Club is proud to present Athletic Performance Training for all dedicated athletes.
Athletic
PERFORMANCE
Princeton Club is proud to present Athletic Performance Training for all dedicated athletes. This high-performance training will teach the athlete how to improve their game, and overall athleticism; each training session will challenge the athlete to further develop skills needed to compete at the next level by focusing on prime key elements.
Create the Total Athlete: Our mission is to create the Long Term Healthy Athlete. This involves more than strength and speed. It is about developing character, confidence and skills needed for a standout team player. Our complete Athletic Performance Program will increase athleticism while focusing on the athlete as a whole. Emphasis is placed on care for the athlete's growing and developing body. This training philosophy is paramount to creating the Long Term Healthy Athlete. Athletes of all ages have experienced large gains with our high-performance program.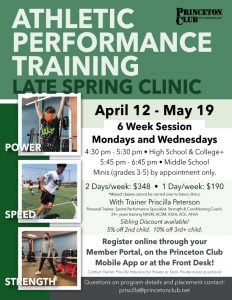 Program Benefits
Proper Warm up Technique and Progression: Every workout begins with a proper dynamic warm up. This prepares the body for the work ahead. Education on technique and progression of an athlete's sport specific warm up are taught, as this is key in reducing injuries.
Injury Prevention: Exercises to reduce injury are an important element when training athletes. Mobility and flexibility exercises are taught considering the healthy long- term athlete. Focusing on the neck, shoulders, hips, knees and ankles.
Strength and Power: Athletes perform strength and power training exercises that are appropriate to their age and physical development. Together these create explosive performance power, which aids in the athlete's speed.
Speed and Acceleration: Regardless the sport, all athletes require speed drills. Movement patterns using quick, directional changes and take-offs improve the athlete's acceleration.
Agility and Reaction: Agility equals quickness. Training agility and reaction drills for quickness is a large part of the athlete's ability to perform on a different level.
Endurance and Stamina: These elements make for a standout player. Training the athlete's endurance and stamina means no lagging behind and maintaining complete control of the body throughout a play or shift.
Balance is Control: Balance training is a critical element in developing the whole athlete. When an athlete practices quality balance training they learn to have total control of their body, even when fatigue and muscle failure set in.
Education on Nutrition for Performance: Understanding what goes into our bodies does have a direct affect on performance. Knowing what foods and beverages will benefit us is key to an athlete's success.
Positive Mindset: Success is due to a positive mindset and confidence, just as much as physical performance. Bringing out the best in each athlete requires the tools to help gain confidence, and the positive mindset it takes to compete and perform at a higher level.
Weight Room Safety and Etiquette: Teaching safety and proper etiquette in the weight room gives athletes the long-term knowledge needed to maintain a healthy lifestyle into their adult years.
Sport Specific Training: Training that compliments the sport delivers patterns, movements and exercises that will teach the athlete muscle memory and coordination. In return, giving the athlete an advantage when performing in a particular sport.
PROGRAM DATES
Late Spring
6 Week Program
April 12th – May 19th
Mondays and Wednesdays
4:30 pm – 5:30 pm • High School and College +
5:45 pm – 6:45 pm • Middle School
Minis (Grades 3-5) by appointment only.
Athletes are grouped with their trainer by age, level & development.

6 Week Late Spring Clinic Cost
2 Days per week • $348
1 Day per week • $190

Power. Strength. Speed. Conditioning.
Sibling discount available!  5% off 2nd child.  10% off 3rd+ child.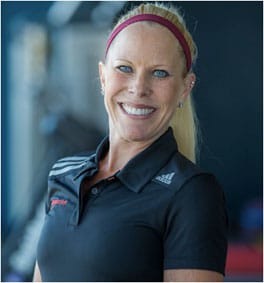 Priscilla Peterson
Athletic Performance Trainer
TRAINING GALLERY
Client
TESTIMONIALS
I began working with (my trainer) about a year ago and have achieved some incredible goals in my life.  He is an amazing trainer and coach and is very knowledgeable about so many things including anatomy, physiology and other aspects of physical training, diet and exercise that are necessary in being a successful trainer.

Princeton Club Member

Love this place. Have been a member for going on 5 years and have been satisfied with their excellent facilities and service. My kids love the teachers at the kids club - they actually engage in activities with them. My son has been going there since infancy and they were so patient when he was first reluctant to go. Now he runs in! Also love that there's a channel on all machines with TV where you can view your kids...wonderful place!

Princeton Club Member

I joined about four months ago for two years to start. I had used the facility about three years ago for physical therapy with UW so I knew what to expect. Three times a week I go to swim classes in the early mornings, do my physical therapy in the resistance pool ahead of time and enjoy the whirlpool after my classes. When the weather cools down I will add some walking and perhaps a yoga class to my schedule. I like meeting new friends and knowing that every time I go there will be friendly faces to greet me and EXCELLENT trainers leading my classes. Before I joined I had mentally committed to the membership. Now I am physically committed! Thank you, Princeton Club!

Princeton Club Member

It's my therapy place. It takes lots of motivation to get there, but once I'm there, it's so worth it!

Princeton Club Member

I love the different classes and the fact most of them are free. It's nice to have variety with my workouts. I can chose a different class everyday of just work out on my own. I have also made some great friends during class.

Princeton Club Member

The BEST gym!! Hands down. So many classes, weights, machines, etc. I've been a member since moving to Madison & wouldn't go anywhere else!!

Princeton Club Member

Clean. Huge. They have it all. If you can't find it here you should stay home. One of the best gyms I've been to.

Princeton Club Member

Beautiful Club. Excellent facility and wonderful, friendly staff.

Princeton Club Member