Our
CLASSES
We offer a variety of classes across all of our locations.  Select your club to view current class schedule. 
Make the most out of your workout
WITH OUR MOBILE APP
 The Princeton Club App provides class schedules, social media platform, creation of goals and participation in club challenges.
Our app will also allow you to link many of the popular fitness tracking devices and fitness apps on the market.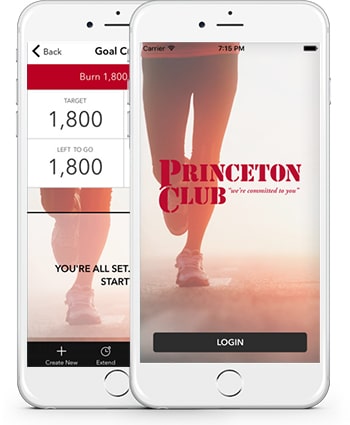 Client
TESTIMONIALS
I began working with (my trainer) about a year ago and have achieved some incredible goals in my life.  He is an amazing trainer and coach and is very knowledgeable about so many things including anatomy, physiology and other aspects of physical training, diet and exercise that are necessary in being a successful trainer.

Princeton Club Member

Love this place. Have been a member for going on 5 years and have been satisfied with their excellent facilities and service. My kids love the teachers at the kids club - they actually engage in activities with them. My son has been going there since infancy and they were so patient when he was first reluctant to go. Now he runs in! Also love that there's a channel on all machines with TV where you can view your kids...wonderful place!

Princeton Club Member

I joined about four months ago for two years to start. I had used the facility about three years ago for physical therapy with UW so I knew what to expect. Three times a week I go to swim classes in the early mornings, do my physical therapy in the resistance pool ahead of time and enjoy the whirlpool after my classes. When the weather cools down I will add some walking and perhaps a yoga class to my schedule. I like meeting new friends and knowing that every time I go there will be friendly faces to greet me and EXCELLENT trainers leading my classes. Before I joined I had mentally committed to the membership. Now I am physically committed! Thank you, Princeton Club!

Princeton Club Member

It's my therapy place. It takes lots of motivation to get there, but once I'm there, it's so worth it!

Princeton Club Member

I love the different classes and the fact most of them are free. It's nice to have variety with my workouts. I can chose a different class everyday of just work out on my own. I have also made some great friends during class.

Princeton Club Member

The BEST gym!! Hands down. So many classes, weights, machines, etc. I've been a member since moving to Madison & wouldn't go anywhere else!!

Princeton Club Member

Clean. Huge. They have it all. If you can't find it here you should stay home. One of the best gyms I've been to.

Princeton Club Member

Beautiful Club. Excellent facility and wonderful, friendly staff.

Princeton Club Member