KIDS
SUMMER CAMP
Registration for Summer Camp 2022
is now open!
KIDS SUMMER CAMP 2022
Welcome to the Princeton Club East Summer Camp!
We are committed to offering your children a safe and fun environment while with us; giving them a summer they won't forget!  Summer Camp details can be found below or click "Registration Packet" to get your kids signed up for a fun-filled summer!
What are some of the benefits of our summer camp?
Convenience: Pick the schedule you like! You can choose individual days or full weeks.  With early drop off and late pick up options offered, work schedules will never be a conflict.
Safe: We have highly educated and trained staff along that with our policies that are set in place to give you piece of mind that your children are safe while in our care.
Fun: We are dedicated to making sure your kids enjoy themselves while they are here and have a memorable time. Daily swimming in our award winning Aquatics facility, biweekly field trips, fitness based activities including Zumba, basketball, tennis and more included every week, crafts, games, and tons of fun filled activities we can come up with!
Facility:  We have the best club in the state to provide your kids with a variety of activities, games, crafts, swimming and more!
Thank you for choosing the Princeton Club East Summer Camp for your children! If you have any questions or needs, please contact me anytime.
Sincerely,
Amber Cota
Summer Camp Director, Health Supervisor
amber.cota@princetonclub.net
Brittany Herrera
Assistant Summer Camp Director
Princeton Club welcomes your children to one of the best summer camps you will find anywhere! Campers ages 5 through 12 are invited to join us this summer (kids may be divided into age groups for age appropriate activities). Each week will be a new and exciting theme and many activities will center around the theme.
Have questions or would like a tour of our facility?
Please contact Amber Cota,
Summer Camp Director and Health Supervisor
, at 
amber.cota@princetonclub.net
or 608-241-2639.
Members will get priority registration through April 15th and be processed first. After that, members and non-members will be processed in the order it is received. Non-member registrations may be turned in prior to April 15th but will be put "in order" to be processed after April 15th.
Early Bird Registration Deadline: May 15th: All dates registered by May 15th will qualify for Early Bird Pricing. Only dates registered for by May 15th will qualify for Early Bird Pricing. All dates after will be at regular summer camp rates.
2022 Summer Camp
2022 Summer Camp Dates
June 13 – August 19
Regular Hours: 8:00 am – 5:00 pm
Early Drop Off (Gap Time): 7:15 – 8:00 am
Late Pick Up (Gap Time): 5:00 – 6:00 pm
Pick individual days (Monday through Friday)
or full weeks
Week 1: June 13 – June 17
Week 1 Registration Deadline:  June 6th
Week 2: June 20 – June 24
Week 2 Registration Deadline: June 13th
Week 3: June 27 – July 1
Week 3 Registration Deadline: June 27th
Week 4: July 4 – July 8
Week 4 Registration Deadline: June 27th
Week 5: July 11 – July 15
Week 5 Registration Deadline: July 4th
Week 6: July 18 – July 22
Week 6 Registration Deadline: July 11th
Week 7: July 25 – July 29
Week 7 Registration Deadline: July 18th
Week 8: August 1 – August 5
Week 8 Registration Deadline: July 25th
Week 9: August 8 – August 12
Week 9 Registration Deadline: August 1st
Week 10: August 15 – August 19
Week 10 Registration Deadline: August 5th
Registration Deadlines are based on availability. In order to qualify for early bird pricing, all specific days/weeks must be registered for by May 15th. See below for pricing.
Gap Time
Gap time is available for parent to drop their children off early (7:15 am – 8:00 am) or late drop off (5:00 – 6:00 pm)
Prepayment is required.
$50/month or
$100 total for the entire summer.
*All gap time is unlimited usage AM and PM per family.
Weekly Themes
Week 1 – TEAMWORK MAKES THE DREAM WORK
Week 2 – THE UNIVERSE
Week 3 – ITS AN ANIMAL'S WORLD
Week 4 – PARTY IN THE USA
Week 5 – HERO
Week 6 – CREEPY CRAWLY CRITTERS
Week 7 – INTERNATIONAL AWARENESS
Week 8 – ZOO KEEPERS IN ACTION
Week 9 – FITNESS / TOUGH MUDDER
Week 10 – KIDS ARE AWESOME!
2022 Summer Camp Rates
REGISTER BY MAY 15TH FOR EARLY BIRD PRICING!
Fees:
Member                           Per Week             Per Day           Early Bird      
1st Child                              $205                          $60                     $185/week, $52/day
Each additional child      $175                           $48                     $162/week, $42/day
Non-Member                 Per Week             Per Day            Early Bird      
1st Child                              $238                          $73                      $210/week, $60/day
Each additional child      $208                          $60                      $179/week, $49/day
Early Drop Off/Late Pick-up
"Gap time" is available for parents to drop their kids off prior to (7:15-8:00 am) or after normal Summer Camp hours (5:00-6:00 pm). Purchase of gap time is at the Front Desk and must be done prior to use. If gap time is not purchased in advance and is used, the charges will be auto-billed to parent account. Gap time purchases are non-refundable.
Fees (Member & Non-Member):
$50/month • $100 entire summer
*All gap time is unlimited usage AM and PM per family.
Rules & Policies
• Registrations are processed in the order they are received, Member registrations will be processed first through April 15th and then processed in order they are received by either member or non-members.
• In order to receive Early Bird Pricing, all dates throughout the summer must be registered for by May 15th. Any changes or cancellations thereafter follow our cancellation policy (see below).
• Registration Deadlines are one week prior to camp week start date.
• A one week non-refundable deposit fee for camp is due the first week of camp registered for, plus all field trips if any field trips are scheduled. Field trips are non-refundable.
• All Summer Camp payments are fully refundable provided written notice of cancellation is received by June 1 in the Business Office (excluding deposit).
• Two week prior written notice is required for any cancellations after June 1. A 50% prorated refund will be issued for any cancellations received after June 1 – only when two week prior written notice has been received in the Business Office. There are no refunds on prepaid field trips.
• Days missed, including illness are non-refundable – no exceptions.
• There will be a $25.00 service fee charge for any schedule changes after June 1.
• Any enrollment additions to Summer Camp are subject to availability.
• Late Pick Up Fee: Parents who do not pick up their children on time will be charged an additional $5.00 per every FIVE minutes late.
• The full rules and policies are also available at the summer camp tent anytime upon request and can also be found at www.princetonclub.net.

SUMMER CAMP
June 13th – August 19th
Pick the schedule that works for you! You can choose individual days or full weeks.  Limited space available, sign up today!
SUMMER STAFF
AMBER COTA
Summer Camp Director
Health Supervisor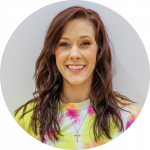 BRITTANY HERRERA
Assistant Summer Camp Director
Client
TESTIMONIALS
I began working with (my trainer) about a year ago and have achieved some incredible goals in my life.  He is an amazing trainer and coach and is very knowledgeable about so many things including anatomy, physiology and other aspects of physical training, diet and exercise that are necessary in being a successful trainer.

Princeton Club Member

Love this place. Have been a member for going on 5 years and have been satisfied with their excellent facilities and service. My kids love the teachers at the kids club - they actually engage in activities with them. My son has been going there since infancy and they were so patient when he was first reluctant to go. Now he runs in! Also love that there's a channel on all machines with TV where you can view your kids...wonderful place!

Princeton Club Member

I joined about four months ago for two years to start. I had used the facility about three years ago for physical therapy with UW so I knew what to expect. Three times a week I go to swim classes in the early mornings, do my physical therapy in the resistance pool ahead of time and enjoy the whirlpool after my classes. When the weather cools down I will add some walking and perhaps a yoga class to my schedule. I like meeting new friends and knowing that every time I go there will be friendly faces to greet me and EXCELLENT trainers leading my classes. Before I joined I had mentally committed to the membership. Now I am physically committed! Thank you, Princeton Club!

Princeton Club Member

It's my therapy place. It takes lots of motivation to get there, but once I'm there, it's so worth it!

Princeton Club Member

I love the different classes and the fact most of them are free. It's nice to have variety with my workouts. I can chose a different class everyday of just work out on my own. I have also made some great friends during class.

Princeton Club Member

The BEST gym!! Hands down. So many classes, weights, machines, etc. I've been a member since moving to Madison & wouldn't go anywhere else!!

Princeton Club Member

Clean. Huge. They have it all. If you can't find it here you should stay home. One of the best gyms I've been to.

Princeton Club Member

Beautiful Club. Excellent facility and wonderful, friendly staff.

Princeton Club Member